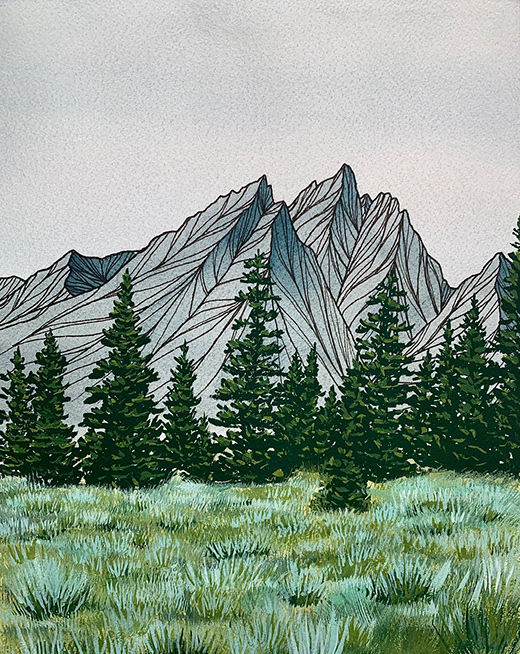 Drawn Outside: Art by Sydni Day
November 4, 2021 - January 9, 2022
Gallery Reception with the artist on Thursday, November 11, 2021, 5:30-7:30pm • Refreshments will be served • Free and open to the public
Artist Statement
Feeling Most Alive Outside
"I view myself as an accidental artist because this creative journey was somewhat unintentional. I graduated from Idaho State University with a degree in Secondary Education and Statistics, and after teaching for several years I decided I needed a creative outlet. I started with simple sketches then progressed onto adding a lot of details using linework. Linework has continued to be a key component of my artistic style as I have experimented with other mediums such as watercolor, gouache, and digital. My initial pieces involved only watercolor and linework. The way the colors flow, bleed, and layer along with the sharp contrast of ink can hold my focus for hours at a time. I continue to learn new techniques and experiment with different materials in an effort to bring variety and to perfect my process. 
My artwork is inspired by my connection to the great outdoors. I express this by adding mountains and trees to still life or lettering, incorporating flowers into a tree ring, or adding my own colors, textures, and details to a favorite mountain range. Idaho has always been in my home and the beauty that can be found here keeps fueling my inspiration. 
When I'm not teaching or creating I spend a lot of time outdoors. It's where I feel most alive and it helps me feel recharged. I strengthen my body and soul by hiking, backpacking, canyoneering, road biking, mountain biking, running, playing soccer, Nordic skiing, and snowboarding.
I initially intended this to be an entirely personal artistic journey but I'm happy to have the opportunity to share it. I have participated in charity auctions, commission work, collaborations with other small businesses, artisan events, and now this wonderful gallery. I have prints and gear available for purchase on my website, www.drawnoutsideart.com. If you are interested in purchasing an original please send me an email at drawn.outside.art@gmail.com. 
- Sydni