Colored Pencil Society - Mountain West Color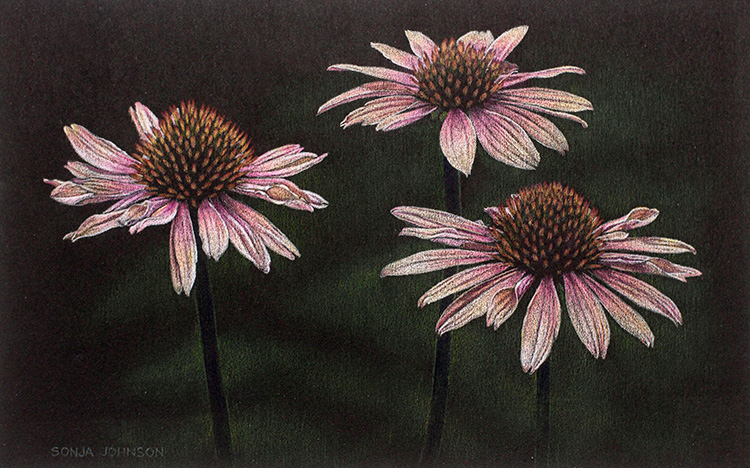 Colored Pencil Society - Mountain West Color
Hall Gallery
Opening reception with the artists on Thursday, September 1, 5-8pm. Free to the public.
Sponsored by Ralph and Annette Perez, Nicholas Manning and William Rojas, Sue Maginn, and Ken and Karma Taylor
Missions and Goals of the Colored Pencil Society of America
District Chapter 217
CPSA District Chapter 217 is part of the Colored Pencil Society of America and shares its non-profit status, its missions and its goals. But in addition to the goals of the parent organization, we as a district chapter seek to give our members a shared platform for showing their art locally, support for their own particular art vision and style, camaraderie and shared experiences. We welcome all artists who enjoy working in this medium, of any background, race, age (18 and up), experience level, or preferred style. Our group has grown artistically over its twenty-five year history through offering workshops, retreats, programs, gallery shows, group projects, and members teaching/helping members. Several of our members have achieved signature status from the national organization. We continue as individuals and as a group to grow and improve the quality of our work. But we do this in such a way as to encourage and support each member at the level where they are. We are a non-pretentious, accepting, open group.
Founded in 1990, the Colored Pencil Society of America (CPSA) is a nonprofit organization for colored pencil enthusiasts working to promote colored pencils as a fine art medium by sponsoring exhibitions and workshops, being involved in product research, and educating the public in general.
The organization strives to elevate the medium, educate others about it, and encourage innovation with its use. Some of the ways CPSA works to gain recognition for colored pencil include:
Sponsoring annual exhibitions for colored pencil artists
Providing a network of district chapters around the United States 
Promoting colored pencil art and artists
Sponsoring workshops at its annual convention
Testing lightfastness of colored pencil brands