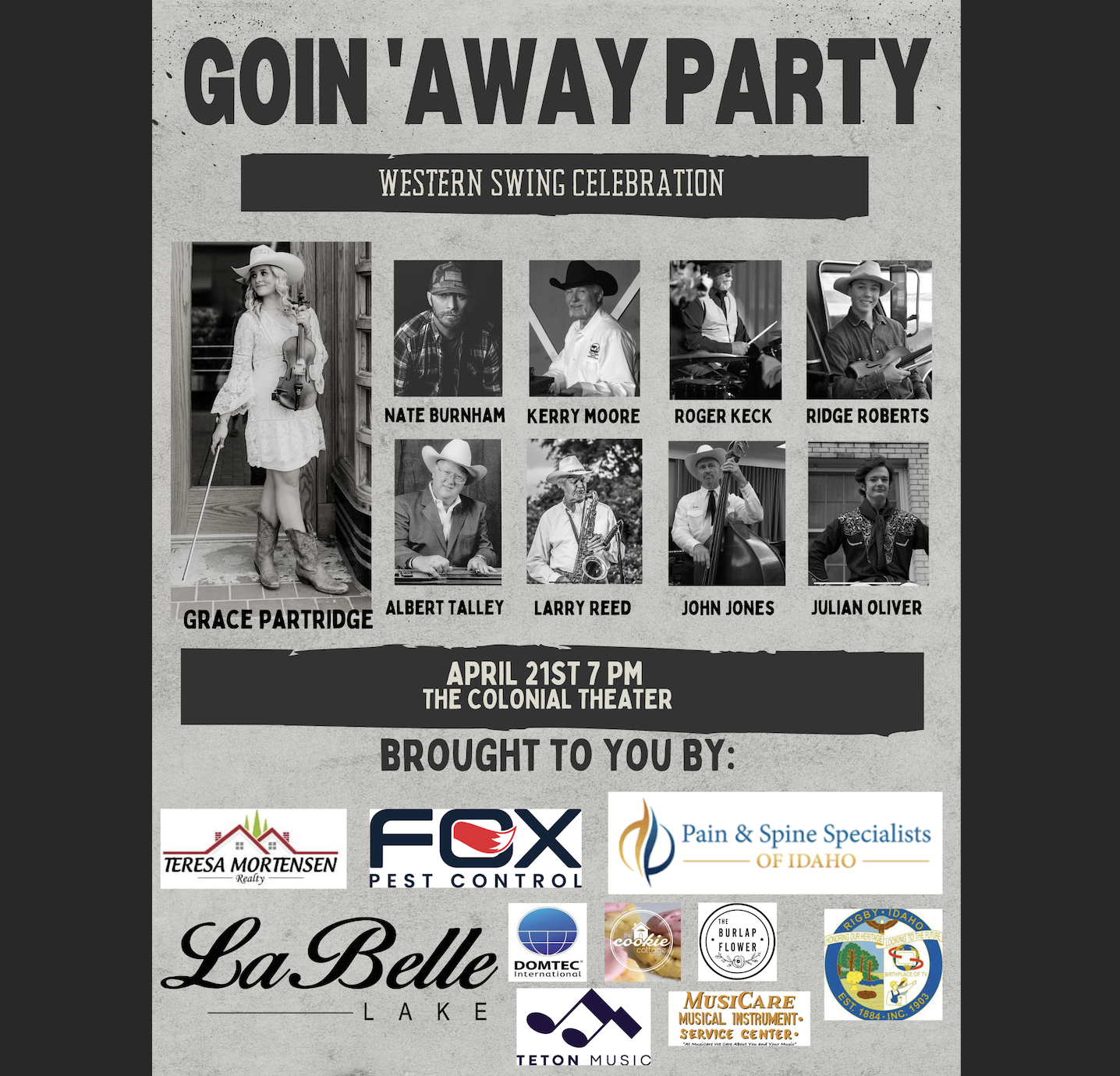 Goin' Away Party
$15 Adult • $10 child/student 17 and under
plus tax and fees
Hey, y'all! I am a senior at Rigby High School. It has been my dream to play music in Texas for a long time. I am blessed to say that I am doing that now!
For my senior project, I decided to bring the music(and musicians) of Texas to y'all! After raising thousands of dollars with the help of generous sponsors, we are able to do just that! During the concert, we'll be awarding a scholarship to a senior at Rigby High School to help jump start their musical career. I am excited to share with other young kids some of the opportunities I have been given! This concert features very good friends of mine in the Western Swing and fiddling communities. We have lined up Albert Talley on pedal steel, Larry Reed on Sax, Kerry Moore on piano, Roger Keck on drums, Ridge Roberts and Julian Oliver on fiddles, and Miss Debbie Talley with her lovely vocals. Western swing and classic country music are passions of mine and I am so excited to introduce it to my hometown! Y'all come!
A little about me..
Grace Partridge is an 18 year old musician who grew up in Rigby Idaho. Grace started taking fiddle lessons from Joe and Jacie Sites at age 4 with the inspiration from her brother Josh. After three years of lessons, at age 7, she won her first National Fiddling Championship in Weiser Idaho. Now a 5-time National Champion, she seeks to preserve and protect Country Music and Western Swing. However, it wasn't until she was the age of 14 that she discovered Bob Wills and Western Swing, and she fell in love at first note. After this discovery, she started to teach herself how to play guitar and sing to the tunes of Merle Haggard, Bob Wills, Ray Price, Connie Smith, and all of her other heroes. She has taken guitar lessons from Joey McKenzie, who has inspired her to write and sing her own songs country and western swing styles. At the age of 16, she had the incredible opportunity to play on the Grand Ole Opry alongside her friend and fellow fiddle player, Ridge Roberts, which made her even more eager to chase her music dreams. Some of her fiddling inspirations include Johnny Gimble, Terry Morris, and Texas Shorty. In 2021, she spent the summer playing shows with Nate Burnham all over DFW. While staying in Texas, she started playing at Paulo Pinto County Cowboy Church, a church in Santo that has an all-star Western swing band. There, she met Albert Talley, who led her to playing at the Steel Guitar Jamboree. Now, she travels from her home base in Rigby, Idaho to Texas as much as she can to play at the Cowboy Church and with Nate Burnham who is based out of Rockwall. Her current plans are to move to Texas in March of this year to play music full time and eventually have a western swing band of her own.
*Goin' Away Party is the presentation of an independent presenter*
Get Tickets