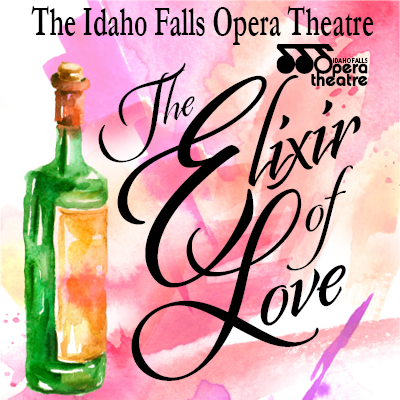 The Elixir of Love
The Idaho Falls Opera Theatre

April 14, 7pm; April 15, 2pm, and April 17, 7pm

$15/ticket - discounts for student, senior, veteran, and larger groups.

Passion promised by a "magic" love potion proves to be no match for the real thing in Gaetano Donizetti's hilarious bel canto masterpiece, The Elixir of Love (L'elisir d'amore), directed by Jessica Wright and conducted by Roger Evans. A hapless, love-struck peasant named Nemorino falls head-over-heels for wealthy landowner Adina, but she has her eyes set on dashing young Soldier Belcore. In a foiled comic attempt to woo her, the pompous officer asks for her hand in marriage, but Adina is in no rush to settle down, or so she says. Laughter ensues as quack doctor Dulcamara, a traveling peddler of cure-all tonics, rolls into town with a bottle of miracles, promising Nemorino that he will win the girl of his dreams. But will this liquid courage pay off? Will Adina marry the Soldier, or will love conquer all in the end?
Go to IFOT.org/tickets to purchase tickets.
The Elixir of Love is a presentation of an independent promoter.