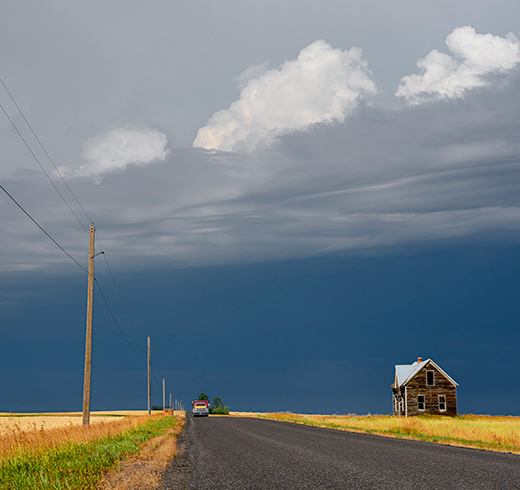 Western Landscapes: Bonnie Zahn Griffith, Colter May, Gordon Rattray, and Sue Tyler
Gallery Reception with the artists on Thursday, June 2, 5-8pm • Refreshments will be served • Free and open to the public.
Sponsored by Ralph and Annette Perez, Jeff and Ann Riedesel, Carrie and Jerry Scheid, Lani and Wray Landon.
Bonnie Zahn Griffith
"As an artist of the western landscape, who works in oils and pastels, I find the rich pigments of pastel and oil allows me to create paintings that have the brilliance and the bold color we see in the West. These mediums give me unlimited options to create the images representational of the colors, depth and texture inherent in this physical earth.
Born and raised in central Montana to artistic parents, I learned to appreciate the wide open space, the ever changing colors and seasons. From the back of a horse I learned to look beyond the obvious My love of the landscape prompts me to paint it, and I look for a story to tell when I paint. I work to create art into which the viewer can step into, finding and experiencing their own story. If that happens, then I have done my job.
Although I work out of my Crooked Creek Art Studio in southwestern Idaho, plein air painting leads me across the western US. These journeys also allow me to share my knowledge of pastel and multimedia in workshops, offered both on location and in my studio."

bonniegriffith.com
"From the ground up, the stretch of the landscape, the embrace of colors, the magnitude of the terrain and the physical earth all shape my vision from my heart; so my love of the land."
Colter May
Biography
Colter was born in Bozeman Montana and raised in a family that valued faith and wholesome activities. From his father, he learned to love the outdoors, respect wildlife, and live with commitment, consistency, and passion. From his mother, he was taught humor, kindness, and the value of finding joy in imagination. These roots provided the fertile beginnings for Colter's drive to become an artist. While the subject of his work primarily focuses on wildlife and landscapes, his ideation and philosophy behind his work are directly influenced by the values he learned and lives in his home. Colter graduated from Brigham Young University-Idaho with a BFA in painting. He lives in Utah with his wife Bobbe and their two daughters Mindy and Emi.

Artist Statement
"As a native of Montana, I have benefited from a legacy of exploration, natural wonder, and deep admiration for wildlife. My childhood years brought me within close personal proximity to many of the Monarchs of the West. I frequently observed wildlife in their natural environments, an opportunity that is becoming increasingly rare. The connection I developed with the land and animals imprinted me with a desire to share these experiences. This show is an opportunity for me to use paint on canvas to honor the grandeur of western wildlife and landscape. I hope to create an encounter between the subject of my work and the viewer that sparks a sense of wonder."
Gordon Rattray
Biography
"I have lived in and traveled throughout the western United States my entire life. My love of the outdoors and deep curiosity led me to adventures as a mountaineer and a whitewater river guide and a career as a scientist for the U.S. Geological Survey (USGS). My passion for fine art landscape photography began in 2019 when I retired from the USGS. I joined the National Park Photography Expeditions Mentorship Program, run by Bob Killen, in 2020 to enhance my artistic growth. The Western Landscapes summer exhibition at the Willard Arts Center is the first exhibit of my artwork. A second exhibit of my artwork, consisting of black and white photographs of Agrarian Landscapes in Eastern Idaho, will be shown in Idaho Falls at The Art Museum of Eastern Idaho during August and September of 2022."
Artist Statement
"Each photograph is a story. Each group of photographs is a tapestry of stories."
Sue Tyler
"I create images of the West: its light, landscapes, heritage, and inhabitants. My work seeks to bring the viewer the intimate spark of mystery and magic in each image. My voice originates in the West. I was raised in Idaho, playing in mountain forests and lakes and horseback riding in the desert. After a great 30 year career teaching art in a rural high school and in adult education classes, I retired to paint full time. Now I can't imagine doing anything else.
Since 2000, my work has won awards throughout the West, and I have had three local/state solo shows. I am a participating artist in several local, state, and national shows in Idaho, Wyoming, and Utah, winning awards in 2016-2021.

I use acrylics and watercolor to express the feel of time and place. My plein air pieces become a reference for works of a deeper level in the studio to enhance the feel of a place or personality of an animal. My work reflects specifically my life experiences in Teton Valley, Idaho: its history, special people and iconic places."