15th Annual National Juried Exhibition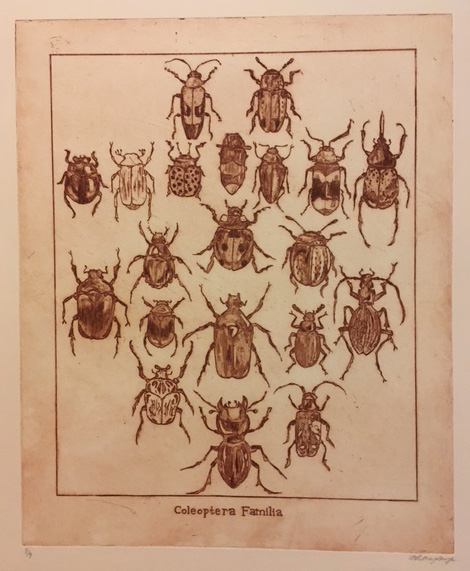 15th Annual National Juried Exhibition
The Idaho Falls National Exhibition is an annual juried exhibition by the Idaho Falls Arts Council (IFAC) and exhibited at the Willard Arts Center in Idaho Falls, Idaho. Artists working in all mediums throughout the United States are invited to submit. This year, we received 386 submissions from 143 artists in 27 states. The juror selected 52 artworks by 47 artists in 14 states to be in the exhibition.
Carr and Hall Galleries
Sponsored by Randy and Deb Kern, Joshua Flores, Sue Maginn, and Marcella Medor
Awards sponsored by John & Kathy Andary
Anne Voillequé
Juror's Statement
"I wish to thank Georgina Goodlander for inviting me to jury the Fifteenth Annual Exhibition. There were 386 entries from 143 artists from 27 states. There was such an abundance of strong works in every media, that choosing just 52 became a daunting task.
My first draft had 95 pieces, the second some 72 works. I created guidelines for myself, in that I also sought to create a balance in materials, media and process.
I found the experimentation of materials simply breathtaking. The works End of the Trail by Candy Raffaele, Landscape of Difference III by Rachelle Cooper, All it's Cracked Up to Be by Brian Brown, Proper Adrift by Stacy Isenbarger, Grand Prismatic 2 by Russel R Lewis, Barn Owl by Corinne McAuley, and A Bird in Hand is Worth… by Dan G. all share imagination and untold beauty.
The photograph The Race by Angela R Roach, exudes the sweat, dust and power of the event. A wondrous beautiful image.
The swirling apparitions of Untitled by Sydney Pierce and the calm of Sunday Morning by Jeriann Sabin reminded me of a serene mysterious life of the spirit.
Immigrant Women Series: Xiao Bei by Yidan Guo, At the End of the Day by Bonnie Peacher, and Maude by Eileen Nistler could easily be interchanged for award places. The are simply stunning works in very difficult and unforgiving media. I was deeply moved by the expert rendering of these works.
Ultimately, as artists, we would like our work to be memorable. It is an act of trust to experience the world through someone else's eyes. Some say Art is visual poetry and good work should reveal something new, challenge preconceptions, and enhance our lives. Technique alone was not a guiding principle for me; rather I was guided by the artist's vision in combination with their expertise. Each of the works I chose prompted me to see or interpret the subjects in a new and fresh way. Ultimately, I looked for surprise and nuance, seeking unique images that remained with me long after the jury process was over.
Congratulations to you all. These are all outstanding works and please do not be discouraged if you did not receive a "ribbon." You all represent the best of your art world."
First Place ($750): Immigrant Women Series – Xiao Bei by Yidan Guo
Second Place ($500): At the End of the Day by Bonnie Peacher
Third Place ($250): Maude by Eileen Nistler
Secret Admirer Award ($250): O Kriolú (Cape Verdean Fisherman) by Rett Longmore
Curator's Choice ($125): Impala with Pink Swirl by Melissa Thompson
Honorable Mentions: All It's Cracked Up to Be by Brian Brown, Endangered Natural State by Abigail Henthorne, Defiance – Portrait of Tigre from Life by Arena Shawn, and The Race by Angela R Roach
Awards sponsored by John & Kathy Andary. Curator's Choice sponsored by Fred & Linda Hughes.
2023 Juror
Anne Voillequé
Anne received her Bachelor of Fine Arts from Idaho State University in 1988. Her primary emphasis was metals, although she also worked in the mediums of oil, printmaking, fibers, papermaking, and sculpture. Anne's metalwork has been exhibited in select galleries in Cannon Beach, Oregon, and Boise. Her piece "Night of the Fawn" was featured in Jewelry/Metalwork SURVEY #3, edited by David LaPlantz, 1993.
Encaustic has become Anne's medium of choice: "It provides me a chance to employ techniques from other disciplines, but each piece is subject to the whims of the process by which the art is made. For me, the medium of encaustic is a hands-on, labor-intensive process that combines materials, metaphor, and mystery. The process engages the contemplative side of my nature, even as a lot is going on at once."
Anne is actively involved in the Idaho Falls community and has been a huge supporter of many local arts organizations, including the Idaho Falls Arts Council, the Idaho Falls Symphony, and the Art Museum of Eastern Idaho.