November 3, 2016 - January 8, 2017: Carr Gallery
The 5 Graces: Acrylic, Metal, Oil, Photography, and Wax
Opening reception with the artists Thursday, November 10, 5:30-7:30 p.m. at the Willard Arts Center in conjunction with Idaho Falls Gallery Walk. Reception supported by KISU, FM-91, Your Ear to the World
An exhibition highlighting the works of five area artists each specializing in a different medium.
Sponsored by
LeRoy Knobel • Idaho Falls Steel Potatoes • Steve and Jackie Larsen • Eagle Canyon Wellness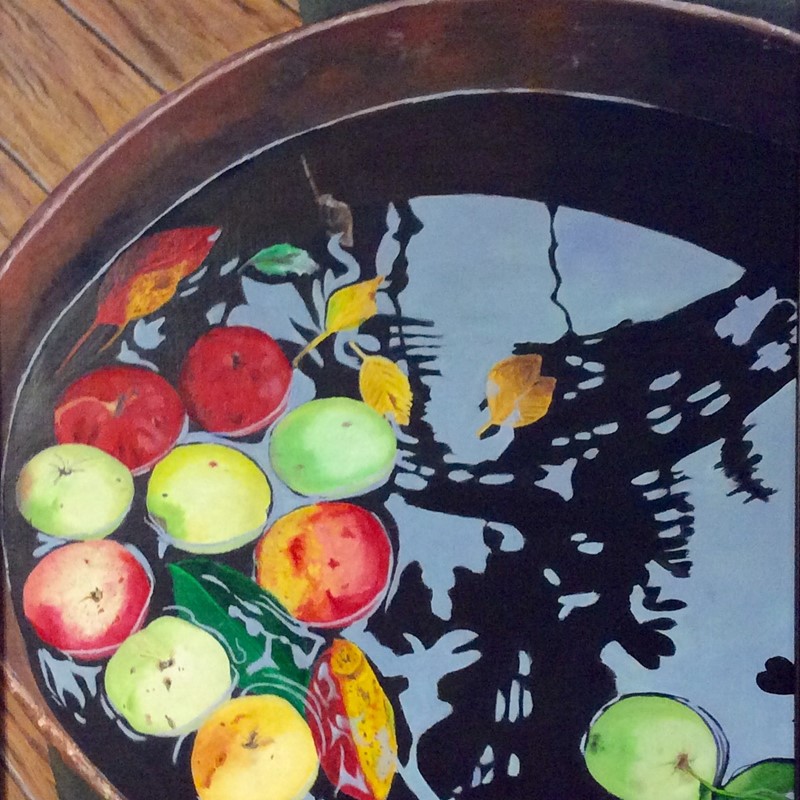 Acrylic
John Schroeder
"I am a neophyte artist, however, old enough to have retired. Other than a three-day watercolor workshop over 15 years ago, I had never had any formal art training until after I retired three years ago. Bored with retirement, in the spring of 2014 I hesitantly signed up for an Introduction to Painting course offered through Idaho State University in Idaho Falls. I even make myself take the course for a grade so that I wouldn't give up and drop out. I was certain that I would humiliate myself. The medium used in the class was acrylic. I had three days of watercolor experience but had never touched acrylic or oil paint.
The instructor, Joanna Jenks, walked us through the fundamentals and assigned five painting projects for the semester. Every class she would briefly cover a new technique, spend time with each student, and make specific suggestions. I struggled with mixing colors… except for brown! Every one of my color mixes seemed to turn out a shade of brown. And every day I would tell Ms. Jenks that I thought my painting was done, because I didn't know what else to do. And every day she would smile and say, "No, I think we need to take this to another level," and give me new pointers and assignments to carry out. My first acrylic painting is included in this exhibition. Ms. Jenks opened a door for me, a door through which I have found great creative fun and joy.
To date I have done only 25 paintings. I'm too new at this to have an artistic philosophy. I have switched from acrylics to oils (my first oil painting is also here). My paintings are an eclectic collection. Each painting has been a learning experience for me. On each one I've tried to focus on fundamental concepts such as composition, color, color theory, and tone… pushing myself to try new techniques. Some tend toward realism, some are experiments with impressionist techniques. For me, every painting starts out ugly… then it slowly takes shape through refining, repainting, rethinking, then more refining. The occasional curse is used for creative impetus.
I hope you enjoy my works. I certainly have enjoyed creating them!"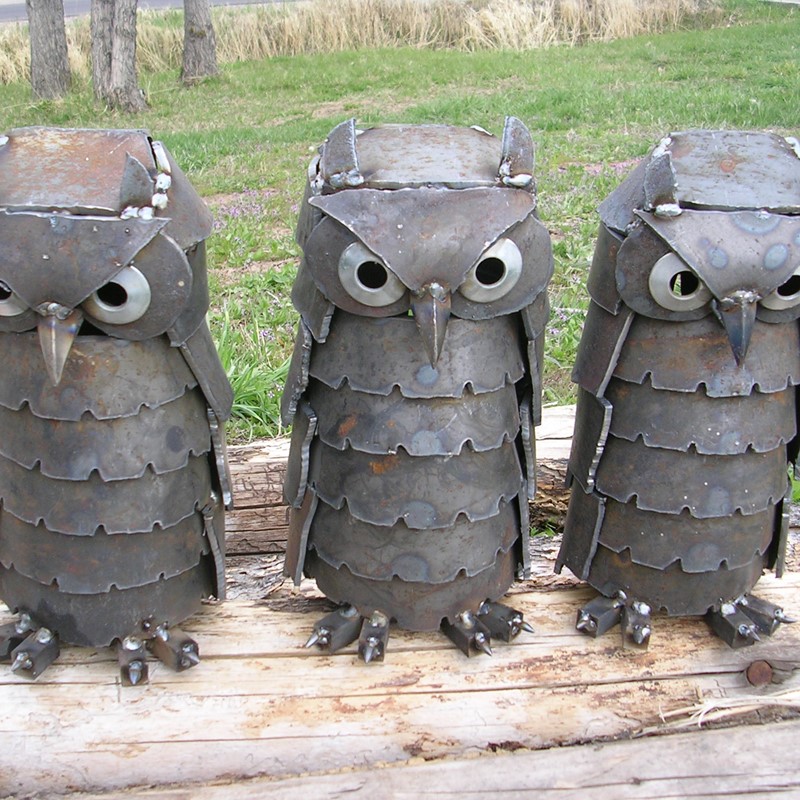 Metal
Jason Brown
A native of Eastern Idaho, Jason Brown received both his Bachelor of Fine Arts and Master of Fine Arts degrees from Idaho State University. A master craftsman, Brown's work includes a variety of materials including clay, metal, and wood.  Brown's earliest influences in art came from his mother and grandmother, both of whom were painters. He also attributes junior high school art teacher Jan Benefiel, high school art teacher Alice Trumblee, and college professors Matt Geddes of Brigham Young University-Idaho and Doug Warnock of Idaho State University as major influences in his development as an artist. Since 1999, he has taught at BYU-Idaho as an adjunct faculty professor in the Art Department.
Jason's first steel wildlife sculpture was a fish, followed soon after by geese. After making small wildlife sculptures for a time, he wanted to try something large so he made a life-sized buffalo. Since then he has made owls, pheasants, cranes, eagles, squirrels, bobcats, bears, deer, and fox. Undeniably his largest projects have been the topiaries on the Idaho Falls Greenbelt, where he has an Elk, a Moose, a Mule Deer family trio, a Grizzly Bear, and is currently working on the next topiary animal commissioned by Idaho Falls.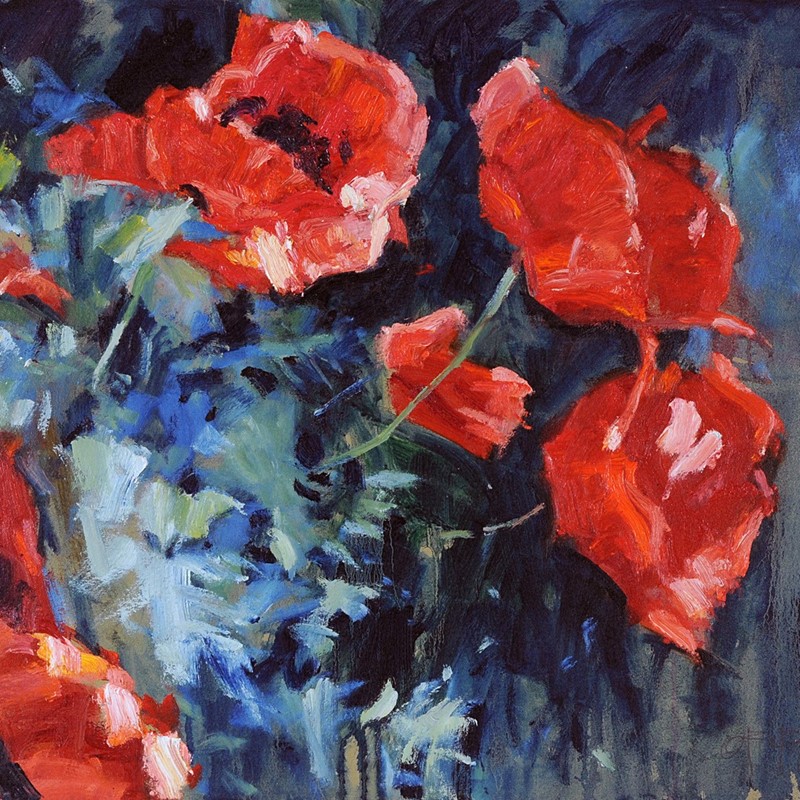 Oil
Roy Reynolds
Idaho artist Roy Reynolds finds his artistic vision in the landscape, flora and people of eastern Idaho. His subjects range from local architecture to street people, from farm fields to iris gardens, from nudes to American Indian festival dancers—all of which he interprets as testaments of his community's beauty, character, identity and sense of place.
Roy was born in 1941 and grew up in Idaho Falls when it was a rough little western town full of eccentric characters who served as inspiration for much of his later work in art. He learned to paint at the age of 3 at the kitchen table. He left Idaho Falls to study at the University of Idaho and later at the Art Center School in Los Angeles. He returned to Idaho Falls and spent years as a cowboy, sometime artist, while working on the side as art director for singer/songwriter Carole King. His cowboy experience is explored in many of his western paintings.
When Carole King retired, Roy began work as an illustrator and graphic designer for the Idaho National Laboratory where he worked for 25 years. After retiring, he found a studio and started to paint and sculpt full time. In 2000 he won the commission for a bronze sculpture on the Idaho Falls greenbelt. The Fur Trader stands on Memorial Drive in downtown Idaho Falls, depicting one of the men who paved the way for Lewis and Clark.
Roy paints primarily in oils on canvas and linen on board. His unique impressionistic style, bold brushwork and rich palette of color appeal to a wide variety of fine art collectors. Asked about his style of painting, he said, "If I knew what I was doing, it wouldn't be worth doing. It would be mechanical. What I like about painting are the surprises that happen. Lots of time I struggle, but at other times, I'm pleasantly surprised at what happens. Those magical moments are what keep me painting."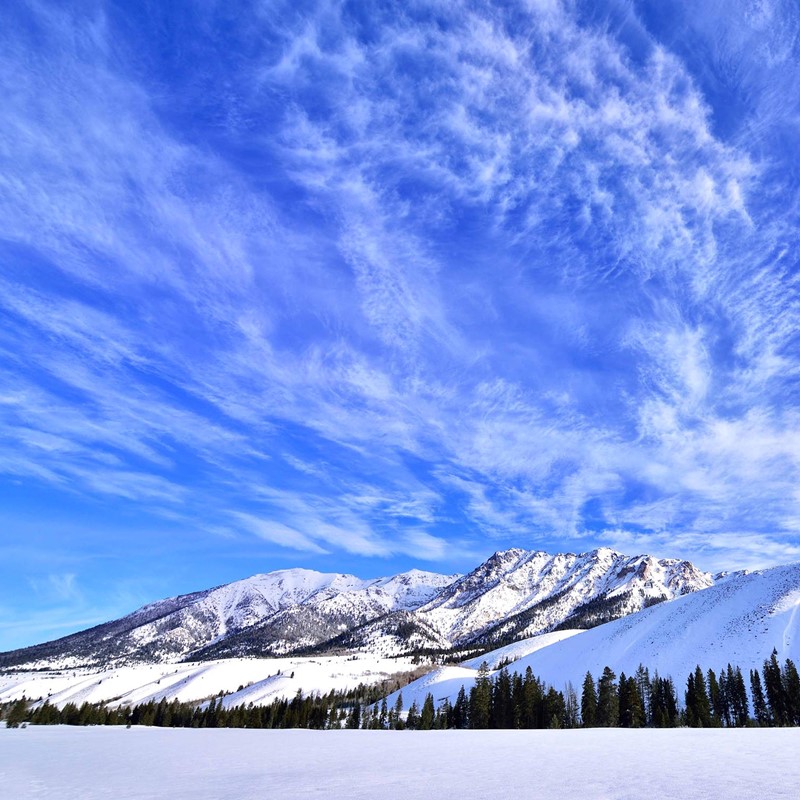 Photography
Kevin Odette
"I grew up just south of Chicago, Illinois in the heart of the Midwest and my continuing love for the city and the people there, on occasion, draw me back. However, my love for wild places, such as Idaho's rugged beauty, bountiful wildlife, and small communities has drawn me to reside in the Northwest where I now call home. Idaho's natural beauty and close proximity to many panoramic and well known locations including Yellowstone and Teton National Park are the perfect backdrop for my art.
Over the past 20 years of living in Idaho Falls, I have dedicated my time photographing the native wildlife and breathtaking landscapes. Just as incredible as the scenery and wildlife are the people who spend time experiencing what Idaho and the surrounding areas have to offer, and countless hours have been spent photographing subjects that immerse themselves in the activities of the Northwest, including fishing, hiking, exploring and much, much more.
The immense canvas of the Northwest vistas, ever changing in the spilling light, as well as the adventurers that find themselves here inspire and fire my desire to capture moments in time; images spurred by knowing that anyone can simply step out of their everyday routine and explore the wild places that still surround us all.
Photography, like all art, tells a story and captures the journey and evolution of that story; where people meet, how someone became drawn to another, the rediscovery of our own lives and the beauty of humanity. An image can be powerful in and of itself. However, it is the story that is shared that brings color to our lives and refreshes us with hope to rediscover the beauty in our own lives. To express these stories for the ages requires long days, especially early mornings to capture the grace of this world's first light, and chasing the setting sun. The hours are killer, but I love the journey!"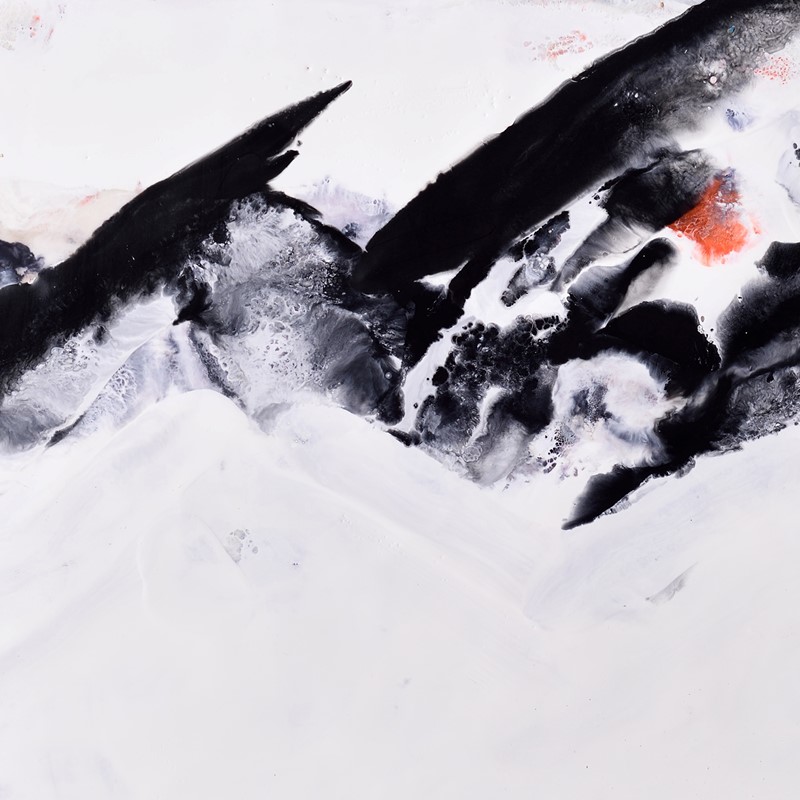 Wax
Anne Voillequé
"I received my Bachelor of Fine Arts from Idaho State University in 1988. My primary emphasis was metals, although I worked in the mediums of oil, printmaking, fiber, papermaking, and sculpture. My metalwork has been exhibited in select galleries in Cannon Beach, Oregon, and Boise. My piece "Night of the Fawn" was featured in Jewelry/Metalwork SURVEY #3, edited by David LaPlantz, in 1993.
After a long hiatus from making art, I returned to my studio in 2008 with a seriousness that allowed by soul to soar. For me, the medium of encaustic is a hands-on, labor-intensive process that combines materials, metaphor, and mystery. The process engages the contemplative side of my nature, even as a lot is going on at once. Encaustic resonates with sensual materiality. The aromatic scent of hot honeyed beeswax is an intoxicating perfume. Tactile, textured surfaces reveal and conceal. The jewel-like, transparent, and deeply saturated colors orchestrate complex image layers and allow for finely tuned compositions. One can produce physical and ethereal pieces which spotlight luminosity, unpredictability, mystery, and transformation. Encaustic has become my medium of choice; it provides me a chance to employ techniques from other disciplines, but each piece is subject to the whims of the process by which art is made."